Investor Relations
| | | | | |
| --- | --- | --- | --- | --- |
| Price: | Change: | Day High: | Day Low: | Volume: |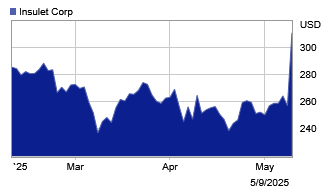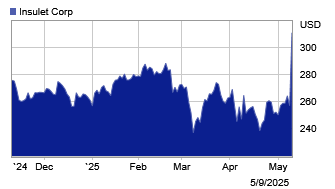 Insulet Corporation is an innovative medical device company based in Acton, Massachusetts. It was founded in 2000 with the mission of improving the lives of people with diabetes. Specifically, through our revolutionary Omnipod Insulin Management System, we seek to expand the use of insulin pump therapy.
Studies have demonstrated the advantages of insulin pump therapy over multiple daily insulin injections (MDI); these advantages include better glycemic control, fewer hypoglycemic events, reduced glycemic variability1 and improved quality of life2. Despite these benefits, most people still choose MDI therapy largely due to the complexity, cost and inconvenience of conventional pump technology.
The Omnipod System is a discreet and easy-to-use system that eliminates many of the issues associated with conventional pumps. Improvements include Omnipod's lack of tubing; automated, virtually pain-free insertion; and two straightforward parts that communicate wirelessly. By breaking down the barriers to insulin pump therapy, Insulet hopes to provide both a superior treatment option and life-long health benefits for people with diabetes.
Recent Release